This huge endorsement could reveal who Trump will pick as his Vice President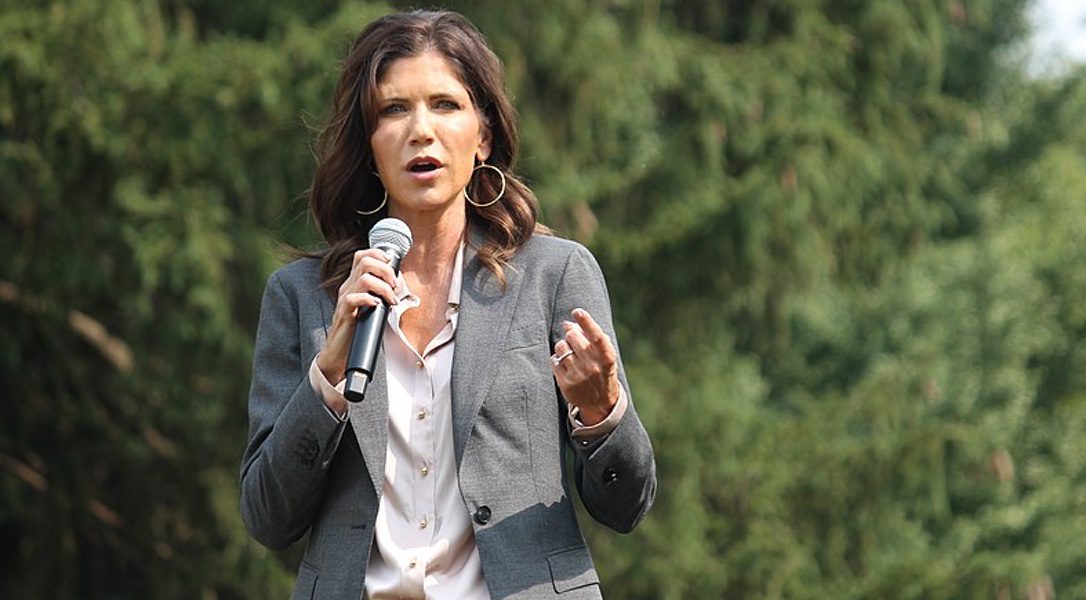 It's no secret that Donald Trump holds a dominant position in national and early state GOP Presidential Primary polls.
If Trump does indeed win the nomination, who will he pick as his running mate?
And this huge endorsement could reveal who Trump will pick as his Vice President.
South Dakota Governor Kirsti Noem became the latest top Republican to line up behind Trump's re-election campaign.
Governor Noem endorsed Trump at a rally with Donald Trump on Friday.
In an interview with Fox News prior to the endorsement, Governor Noem told Fox News that Trump was likely to win the nomination and that he had the strongest record of any candidate in the field.
"I do feel pretty confident that President Trump will be the Republican nominee for President," Noem stated. "He obviously has a record that he's running on, and people know with him what they're getting. I think these other candidates that are in may be good people, but their record isn't just as impressive."
Donald Trump's number one political weakness has been and continues to be his poor numbers with female suburban voters.
If he's to win the White House again in 2024, he will have to improve his numbers with this demographic—something he hasn't been able to do so far.
Because of this, it's long been expected that Trump would pick a female Vice Presidential nominee in an attempt to shore up that vulnerability.
Governor Noem became a national figure in the GOP when she was one of the few Governors in the country who never imposed a lockdown or mask mandate.
Despite the howling from Dr. Fauci and his allies in the media, Governor Noem kept her state open and free.
But that doesn't mean that Governor Noem has never slipped up.
As Governor, she stepped on a landmine when she initially refused to sign a bill banning biological males from women's sports over concerns the NCAA would not hold championship events in a new arena built in South Dakota.
This angered conservatives in South Dakota and across the nation.
Unlike most Vice Presidential contenders, Governor Noem made no secret about the fact that she is interested in being Donald Trump's running mate in 2024.
"Yeah. I'd have to consider it," Noem said in response to Fox News asking her if she would take the position as Trump's Vice Presidential nominee. "I think everybody would have to consider it if they were asked that question. It's such an important time in our history where we see constitutional freedoms being undermined by leaders across this country almost every day."
"This is a different question. And I will tell you that, of course, I would consider it," Noem added.
"Our country is breaking right in front of our very eyes today, and everybody should be a part of putting it back on its foundation. And if President Trump is going to be back in the White House, I'd do all I can to help him be successful," Noem continued.
Given the stakes in 2024, it's critical that former President Trump gets this pick right.
Trump is rumored to be considering two main factors in choosing a running mate – their ability to perform well on television and loyalty to him and his agenda, something many members of his last administration never had.
Donald Trump will get a chance to test drive the idea of the Trump-Noem ticket when the two appear on stage before voters.
Will it be a winning combination?