Karine Jean-Pierre froze when faced with one question that could end Joe Biden's 2024 campaign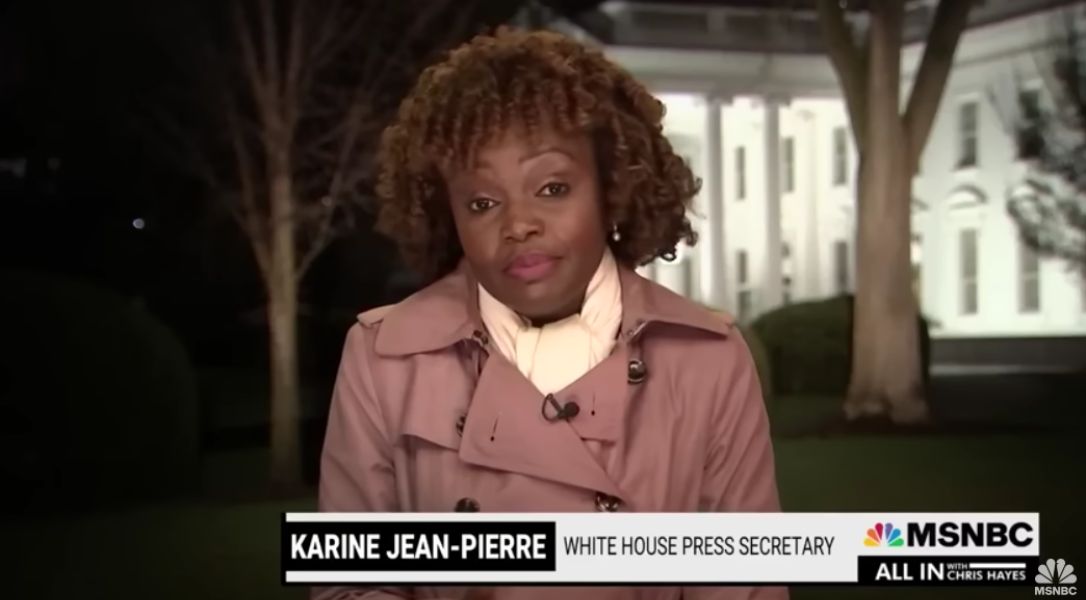 Joe Biden wants to run for re-election next year.
Many Democrats disagree.
And now Karine Jean-Pierre froze when faced with one question that could end Joe Biden's 2024 campaign.
Leftists lost their minds over the news Joe Biden was considering reinstating Donald Trump's executive order ending catch and release at the southern border.
For years, Democrats spread the lie that securing the border equated to white supremacy so they could not handle the fact that Biden was scrambling to show progress on the border ahead of the 2024 election.
Woke MSNBC host Chris Hayes grilled Jean-Pierre on the reports about Biden trying to look like he was cracking down on the border.
"There were reports that the White House was considering – or the Department Homeland Security was considering – reintroducing the practice of family detention," Hayes began, saying Trump's policy to end catch and release "was harshly criticized" by Biden during the 2020 campaign.
"Is it true that that's being considered?" Hayes wondered.
Jean-Pierre – characteristically – was unable to answer the question without a prepared answer from her binder in front of her.
"So, what I want to be very clear here – and I've answered this question as you know, Chris, many times in the briefing room, and we as an administration have as well – we are not gonna certainly comment on rumors or conversations that are out there that people are reporting on," Jean-Pierre answered. "Those are rumors. What we are going to promise is that we're going to do this – we're going to move forward with a, with this kind of systems, immigration system, that has been gutted, really, truly gutted by the last administration."
Hayes responded that it seemed like this should be a simple question for Biden to answer since his stated agenda was open borders and amnesty.
"Just to follow up on that," Hayes asked. "I think if I said, 'Are you gonna do child separation again?' you'd say, 'No, we're not gonna do child separation,' right? I mean, so it just seems like you could say like, 'We're not gonna do family detention.' But you're not saying that, which is fine as far as it goes, but I just want to be clear."
"I think what you're asking me, Chris, is to speak to rumors that are out there," Jean-Pierre ducked a second time. "And that is not something that we're going to speak to any rumored conversation."
Biden is stuck between a rock and hard place.
Polls show the majority of Americans do not want Biden to run for a second term.
This is due to the fact the public knows Biden is too old and senile to carry out his duties until he turns 86 – the age Biden will be at the end of a second term.
Voters' concerns about Biden's age resulted in polls showing Donald Trump leading Biden in head to head 2024 matchups.
Biden wanted to shore up his standing by not just reinstating Trump immigration policies, but also signing a GOP resolution undoing a Washington, D.C. City Council crime bill that lowered sentences for violent crimes, as well as leaking word that he planned to approve a massive oil drilling project in Alaska.
In the 2024 election, Biden knows he is vulnerable to attacks on crime, immigration, and energy, so Biden wants to fool the public into thinking he is pivoting to the center.
But Jean-Pierre can't go on MSNBC and answer honestly because it would invite a serious primary challenger from Biden's Left from an ambitious, younger Democrat who can also read the polls that Democrats don't want Biden as their candidate in 2024.
Every President who faced a serious primary challenger lost re-election.
Biden is desperate to avoid a primary challenger from the Left, but he is also caught between needing to appeal to Americans he alienated with his hard-left governing agenda.
Ensure your vote is counted- enter a valid email address below: