Donald Trump just humiliated Joe Biden with one massive announcement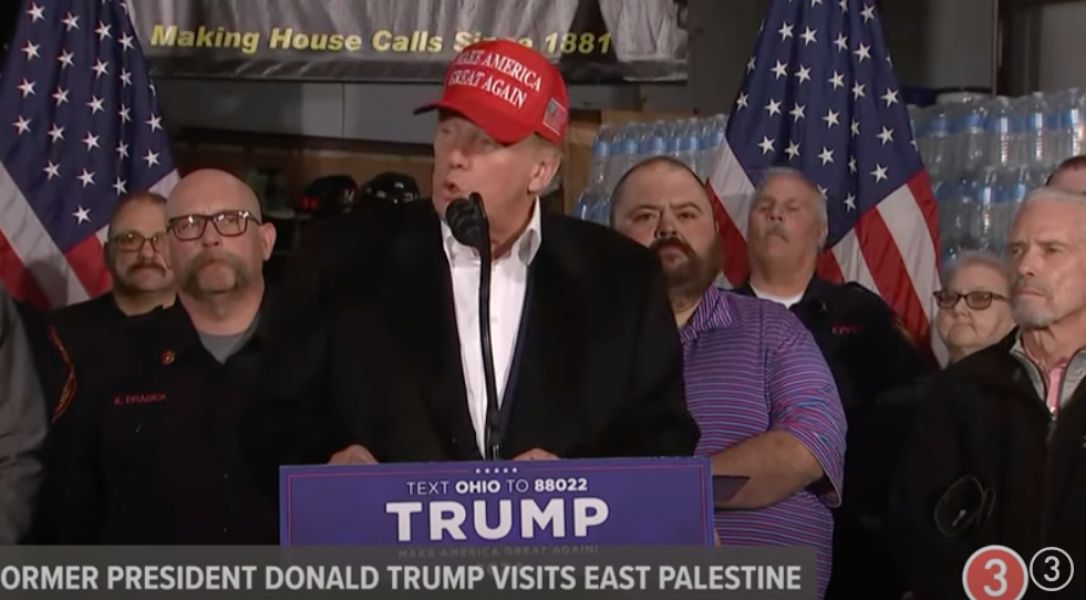 Donald Trump and Joe Biden are the two leading contenders for the White House in 2024.
Their first showdown ended in a lopsided defeat for Biden.
And Trump just humiliated Joe Biden with one massive announcement.
A Norfolk Southern Railroad train carrying the chemical vinyl chloride derailed in East Palestine, Ohio on February 3.
Chemicals seeped in the ground and water causing the deaths of animals and residents to complain about health issues and poisoned water.
Authorities' decision to burn the chemicals created a toxic cloud that forced an evacuation of the surrounding area.
It took nearly two weeks for Transportation Secretary Pete Buttigieg to address the disaster and even then Buttigieg tried to downplay what some called "Chernobyl 2.0" by claiming this was just 1 of 1,000 train derailments a year.
Joe Biden totally ignored East Palestine as FEMA turned down Ohio Governor Mike DeWine's disaster relief request and then traveled to Ukraine to show his solidarity with President Volodymyr Zelensky.
In 2016, Donald Trump won the Presidency campaigning on a promise to put the forgotten men and women of America first.
And Trump is looking to call attention to Joe Biden leaving the forgotten men and women of America behind by visiting East Palestine, Ohio, and donating thousands of bottles of water and cleaning supplies.
Fox News reports:
Former President Trump will travel to East Palestine, Ohio Wednesday and is set to donate thousands of gallons of cleaning supplies and more than a dozen pallets of water to the community as it grapples with the aftermath of the train derailment that led to a large release of toxic chemicals, Fox News Digital has learned.

A source familiar with the former president's plans told Fox News Digital that Trump will travel to East Palestine on Wednesday to meet with members of the community and community officials.
One of Trump's advisors explained the split screen of Trump on the ground helping the relief efforts in a distressed American community while Joe Biden served the globalist agenda in Ukraine was a comparison that would work in Trump's favor.
"President Trump is meeting with the citizens of East Palestine and will never forget them and what they are going through," a Trump advisor explained to Fox News. "Contrast that with Biden and the federal government who has failed them from the beginning."
Critics suspect Biden and his team ignored the plight of East Palestine because the surrounding counties voted 70 percent for Donald Trump.
Had this disaster taken place in a major metropolitan area, preventing harm would have been priority number one and it would receive saturation media coverage.
Biden ignoring the chemical spill while traveling to Ukraine is the type of elite neglect that led to Donald Trump's rise in the first place.
Ensure your vote is counted- enter a valid email address below: